Events
Events at a Glance:
Thursday March 22nd, 2018 – Trivia Night
Saturday, May 5th, 2018 – Spring Thaw Tournament
Training Times:
January 15th, to April 28th
Ladies – Saturday Mornings 11am-12:30pm – Pierre Elliott Trudeau School (Gatineau)
Men's – Tuesday nights 7:30pm- 9pm  – D.Roy Kennedy Public School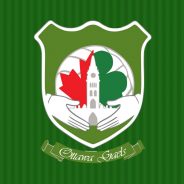 March with us in this year's St. Patrick's Day Parade and then join us for the Beau's Party at Lansdowne! The Ottawa Gaels are excited to once again be taking part in the annual Irish Society of The National Capital Region Saint Patrick's Day Parade on Saturday, March 11th, 2017. The Parade will leave the intersection of Elgin St. and Laurier Avenue West at 11:00am, proceed westward along Laurier to Bank Street and then south on Bank Street to Lansdowne Park. At the conclusion of the parade, Lansdowne will be home to the Beau's St. Patrick's Day Party inside the Aberdeen Pavilion. The party begins at noon and runs until 10pm will feature live Irish entertainment, activities and more! While you're there, be sure to stop by the Ottawa Gaels booth. We'll be on-site, providing demonstrations and will have games and information available for visitors who are curious about our great sport. The Beau's party will sell out quickly so if you are interested in attending buy your tickets now! You can also join us as a volunteer! We have openings for an evening shift which goes from 5pm-11pm.  We will need people to cover the bars as well as admissions, green team, and merchandise. Volunteers enjoy free admission to the event ($29 value!) and a receive a cool Beau's t-shirt. Email publicrelations@ottawagaels.ca to sign up. The Ottawa Gaels invite supporters of our team and the Irish community at large to line this year's parade route. Volunteers will be collecting cash and food donations for the Ottawa Food Bank along the Parade route. The Gaels are also inviting members of the team to join us as we march in the parade. Along with a healthy dose of green, we'll be sporting our maroon colours as we walk through the streets of downtown Ottawa. (Be sure to visit our store for official Gaels merchandise!) Our group will be meeting near the start of the parade route (Elgin and Laurier) at 10:30am. Check out the video below from last year's Beau's St. Patrick's...
read more