Ladies Football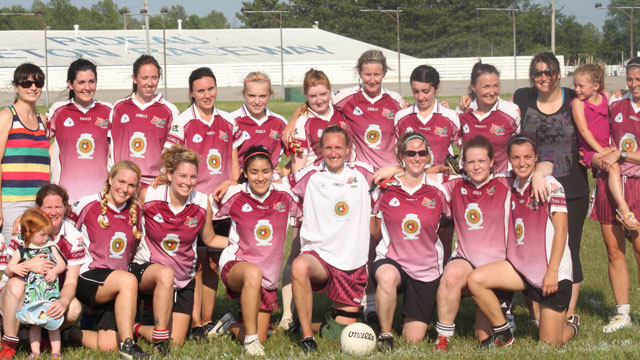 Over two decades after it was first introduced to the city, Ladies Gaelic Football continues to thrive in the Canadian capital.  For Irish emigrants, the team offers a home away from home and for Canadians of Irish heritage, the opportunity to connect with the Irish community and culture. But regardless of your heritage – even if you have no connection to Ireland – this is a sport for all athletes looking for a new challenge that lets you easily transfer skills from soccer, volleyball, basketball or other team/field sports.
There's a reason, however, why Gaelic Football is known as the "original beautiful game". Combining the best parts of some of Canada's favourite sports, the fast paced and dynamic game of Gaelic Football offers all players, regardless of background or experience, an exciting challenge and a welcoming community.
Check out our About Gaelic Football page to learn more about the game and to watch the Original Beautiful Game video.
With weekly training, games against teams from Toronto and Montreal, tournament play and regular social events, this season is gearing up to be another successful year for the ladies team. Whether you are newly arrived from Ireland, looking to connect with your roots or seeking out a new challenge and a bit of 'craic', we are always looking to recruit new players of every experience and skill level.
If you're interested in trying out the game at a training session or would like to learn more about the team, please contact info@ottawagaels.ca.
History
A proud tradition of winning continues to flourish with the Women's team. Dating back to 1994, The Ottawa Gaels Ladies have won 7 Championship Titles and 6 League Titles. The club's first back to back double wins (League and Championship) occurred in 2001 and 2002 with more double wins in 2004 and 2006. 2006 was a particularly winning year with Five Cups. In 2006 the Ottawa Gaels won both the League and Championship of the Toronto Divisional Board, along with the Durham Emmets, Montreal Shamrocks and the International 7's powerscreen tournaments, for a total of five cups.
Click here for a complete list of Championships.
Senior Training Dates For 2018/19
Monday nights 6:30-8:00 Location TBC (starting outdoor in May)
Register Today.
If you'd like to register, simply complete our registration form and return it by email to info@ottawagaels.ca.
Register Now