Mike Robinson and the tournament named in his honour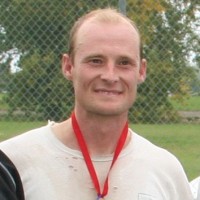 Mike Robinson was a special education teacher, avid outdoorsman, father, husband, soccer player, cyclist, cross country skier, hockey player, Gaelic footballer and friend to many. Tragically, he died in July 2010 in a plane crash in Radisson, Quebec on his way to the drop off point for a canoe trip in northern Quebec. This tournament, held every September, honours his memory.
It seeks to captures the sportsmanship and fun that were the hallmarks of Mike's contribution to the club in his time as a club member from 2006-2010. He played with the Mens' team in league and championship games over those four seasons; made it out to practices when he wasn't away canoeing and he was an ever present at the Friday night Algonquin Dome games over the winters of 2008 and 2009.
This annual memorial tournament aims to celebrate the excitement of our great sport in a fun, co-ed, family Gaelic Football tournament that is not too serious and spans the ages from 14 up to 70! As part of the days' activities there is also a youth tournament for up and coming Gaelic footballers!
More about Mike
Mike taught in the WOTP pathway at Philemon Wright High School. This is a program that entails some hands-on learning with a work placement. In some circles it might be called the Special Education Class. Though he had a PhD in Physics he was never patronizing nor had any airs or graces about him. Mike was down to earth and very approachable. It was a common occurrence that at lunch time many of his students or the soccer players he coached would seek him out to chat and enjoy a laugh.
One illustration of Mike's commitment to his students and outdoor education is when Mike developed a Canoe-building class for these students and together they built a canoe, which they sold to help fund their annual canoe trip. Mike, along with a number of teachers, would head out every summer with approximately 10-15 students on a week-long canoe camping trip. Needless to say this trip was an absolute highlight of the school year for the students at Philemon who participated in this once in a lifetime opportunity. Mike, a keen and skilled soccer player himself, coached the indoor and outdoor girls' soccer team for many years, as well as volunteering his time for school Famines, talent shows and inter-mural sports! It's fair to say that Mike was a dedicated and admired team player at Philemon, as he was with the Ottawa Gaels. More about Mike can be found on this Macleans.ca article.