Ottawa To Host Eastern Provinces for Canadian Championships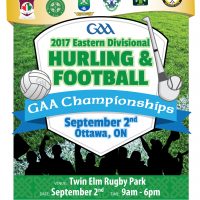 OTTAWA (August 23rd, 2017) – In celebration of Canada150, the Ottawa Gaels (GAA) Gaelic football club and Éire Óg Ottawa Youth Hurling Club will host teams from Quebec, Nova Scotia and Prince Edward Island in the nation's capital for the Eastern Canadian GAA Championships this September.
"We're delighted to welcome clubs to Ottawa during this seminal year for Canada," said Ottawa Gaels Chairperson Kerry Mortimer.
"As Canada commemorates 150 and reflects on the diversity and strength of our communities, these championships provide an opportunity to celebrate the contributions of Irish culture, sport and community here in Canada."
As Ottawa is home to the Irish Embassy, Irish Ambassador to Canada Jim Kelly also looks forward to meeting and supporting the teams as they hit the field, "The GAA in Canada continues to grow and flourish, bringing together people of all backgrounds to learn and love our national games, to develop a deep sense of community, and to build a strong connection with Ireland," said Ambassador Kelly.
"I look forward to welcoming the teams to Ottawa and enjoying the energy and excitement of the championships."
Quick Facts:
Eastern Canadian Championships
Established in 2014, and first hosted in Newfoundland, the Championships in Ottawa will welcome 6 GAA clubs from 4 provinces in from the Eastern Canadian Division.
Over 150 adult players in Ladies and Men's Gaelic Football and Hurling will participate in the games.
The 2017 championships will for the first time, include a youth division comprised of nearly 60 youth players from Ottawa.
Games will take place on Saturday, September 2nd from 9 AM to 5 PM at Twin Elm Rugby Park.
GAA dignitaries including Sean Harte, Chairperson of Canada GAA, will be in attendance.
Gaelic Games
Combining the suspense and skill of soccer, field hockey and lacrosse, the high scoring of basketball, and the impact of rugby, Gaelic Football and Hurling cater to a broad range of athletes and sports enthusiasts.
The Gaelic Athletic Association (GAA) is Ireland's largest sporting organization. It is celebrated as one of the greatest amateur sporting associations in the world.
The GAA was founded in Ireland in 1884 in order to make athletics more accessible to the masses and to revive and nurture traditional, indigenous sports and pastimes.
Players, even at the highest level, do not receive payment for playing and the volunteer ethos remains one of the most important aspects of the GAA.
The Irish who emigrated, brought their national games with them and over 400 clubs are now well established in Canada, the US, Australia, Britain, China, mainland Europe and many other parts of the world.
For more information contact Sarah Thorenton at publicrelations@ottawagaels.ca