Annual Spaghetti Fundraiser Dinner – May 6th, 2017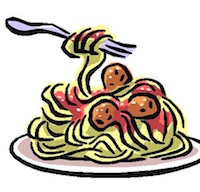 The Ottawa Gaels invite you to join us for our Annual Spaghetti Dinner Fundraiser, happening on Saturday, May 6th at St. Brigid's Centre for the Arts.
The fundraiser gets underway at 5:30pm, at a cost of $10 for adults and $5 for kids.
Together we'll be able to feast on Spaghetti, Salad, Bread and Dessert. There will also be lots of raffle prizes to be won and live music.
Event Details
What: Annual Spaghetti Dinner Fundraiser
Where: St. Brigid's Centre for the Arts – 310 St. Patrick Street in the Byward Market
When: Saturday, May 6th, 2017 – 5:30pm-8:30pm
Cost: $10 for Adults / $5 for kids /$25 for Families (4+ Members)