Youth Registration Open for 2017 Season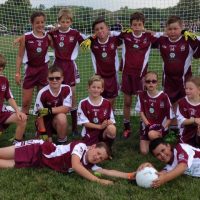 The Ottawa Gaels have opened youth registration for the 2017 season. This season's program offers tremendous value at a sign-up cost of only $100. Those who register will enjoy:
6 weeks of indoor training sessions
8 weeks of outdoor training sessions
Competion in 3 local tournaments
This summer program requires only a commitment of once a week, with four locations around the Ottawa region (Almonte, Kanata, Ottawa West and Riverside South). As an added bonus, athletes in Ottawa will get the unique opportunity of working with highly qualified coaches from Ireland. The program culminates in the opportunity to compete at the Continental Youth Championship (CYC) taking place at Gaelic Park in Buffalo at the end of July.
Try it
For kids who are new to Gaelic Football, we invite you to join us for a free, no obligation "try it" session. Your first session will be free no matter when you start the program so your kids can try it out before committing to a full registration.
Waiver & Media Release Form
The Ottawa Gaels require parents and athletes to fill out a waiver form and present it on the first day of the program. You can download and print the waiver by clicking here.
Register Today!