Youth Gaelic Football Try It Sessions – Free!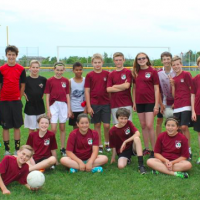 Join us for our free sessions to learn how to play Gaelic Football!
This in an introduction to the sport for those who have never played and a chance to play for the first time in 2017 for those who have.
We will run two sessions of one hour each 8-9am and 9-10am.
Drop in at whatever time suits you best!
Our first session will take place on Sunday, February 12 for kids ages U8 and U10.
Our second session is scheduled for Sunday, March 5th. This session will be for kids ages U12 and U14
All sessions will take place at Bell Sensplex, 1565 Maple Grove Road, Kanata, Ontario K2V 1A3
No need to register, just show up!
Bring along your friends from school or your other team sports such as hockey, soccer, basketball, volleyball who you think might be interested. Girls and boys are welcome but will play separately in organized games.