Riverside South Youth Program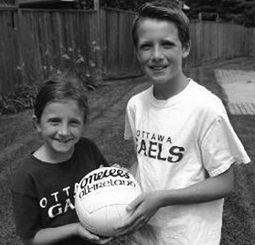 **Updated May 17th**
Our Youth Program kicks off in April with six weeks of indoor sessions followed by eight weeks of outdoor sessions in May, June and July. The program includes three local youth tournaments in June (Barrhaven), July (Almonte Celtfest) and  September (Barrhaven). We will be taking teams to the Continental Youth Championship tournament which is held every year at different locations the US.
We'll start with indoor sessions at the Bell Sensplex in April and May, followed by outdoor training at St. Francis Xavier High school on Thursdays and a house league on Fridays in Kanata.
Try It!
For any kids new to Gaelic Football join us for a free, no obligation "try it" session. Your first session will be free no matter when you start the program so your kids can try it out before committing to a full registration.
Indoor Dates: Sundays April 9, 16, 23 and May 7, 14
Time: 8-9 am (Grades 1-4), 9-10am (Grades 5-8)
Location: Bell Sensplex Kanata
**Updated May 17th**
Training Dates: Tuesdays May 18th to July 6th (merged with Ottawa West program)
Time: 6:00-7:30pm
Location: St Paul's High School 2675 Draper Ave, Ottawa, ON K2H 7A1
House League Dates: Fridays May 19- July 14 (Kanata)
Time: 7-8 pm
Location: Stephen Leacock Elementary School
Training, house league and 3 local tournaments included in registration. You are also welcome to attend training in Ottawa West (Tuesdays) and Kanata (Wednesdays).
Register Today