The Ottawa Gaels 2014 World Cup Pool is Underway!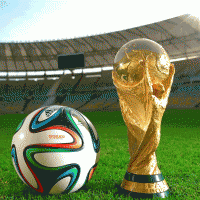 We had a whopping 67 entries in our World Cup Pool — thanks to all who entered!  We look forward to following the tournament with you …. and trash talking along the way.
A list of all pool entries and their picks can be found here in PDF format.
67 entries means we have $335 up for grabs. $85 will go to the leader at the completion of the group stage and $250 to the overall winner at the end of the tournament.
Results will be posted here at www.ottawagaels.ca as the group stage standings are finalized and at the completion of the tournament.
Just a reminder — in the event of a tie for the winner of the group stage or the overall prize we will be looking to your tie-breaker team.  The tie-breaker team with the most goals for will determine the winner.  If we still have a tie then we will add up the goals for all of your winning picks and determine the winner that way.  If we STILL have a tie there will be an austrian leg wrestling competition to determine the victor.
Some interesting facts…
91% of you think that Brazil will win Group A
69% of you think that Spain will win Group B
Group D is tight — 49% chose Italy to win it, 28% for Uruguay and 20% for England (and Mowgli chose Costa Rica….)
95% of people chose Argentina to win Group F (and Cassidy chose …… Iran?!?!)
Championship winner predictions are split — 31% chose Argentina, 30% chose Brazil and 13% chose Germany.
In the meantime, come on out to one of our World Cup Pool gatherings for some craic and camaraderie with your fellow poolies.  Dates and locations will be posted on our Facebook page and Twitter feed.
Good luck to all!