2017 Pig Roast Extravaganza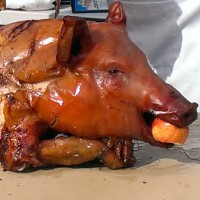 The summer tradition returns!
We're hosting our fourth annual pig roast extravaganza on Saturday, July 15th, at 4PM.
Celebrate summer and spend time with your teammates, friends and their families. Cold Beer, wine, pop, juice, salads, hot dogs and desserts will be served. Tickets will cost $25 for adults and $5 for children (after July 8th tickets are $30/adult). There will be limited tickets at the door as we have to order the pig ahead of time so need people to buy tickets a week in advance.
Join us for what's sure to be a great time!
Event Details
What: 4th Annual Ottawa Gaels Pig Roast
When: Saturday, July 15th, 2017
Where: 83B Leacock Drive, Kanata, ON
Cost: $25 for adults, $5 for kids (after July 8th tickets are $30/adult)
For further information email info@ottawagaels.ca or call (613)294-2439.