2017 Annual General Meeting – October 29th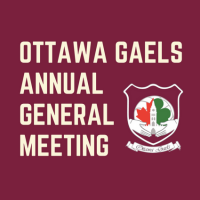 The Ottawa Gaels invite you to join us for the 2017 Annual General Meeting (AGM), taking place on October 29th. This year's AGM will be held at the Heart & Crown in the Byward Market, from 1-3pm.
Our AGM gives our members and supporters an opportunity to hear from our board about the association's performance and achievements over the past year. Join us as we review the year's highlights and select our executive committee for the coming year.
As we approach our Annual General Meeting, we are also seeking volunteers to fill key positions. We have several volunteer positions open for the coming year.
If you are interested in getting involved but don't want to take on an official role you can be on a committee or just offer a few hours of time at any time during the year (for example when we need extra help with Registration in spring). All and any help is appreciated.
By getting involved, you'll be a part of a thriving sporting and cultural community-based organization in Ottawa and play a vital role in building our club.
To learn more about each position and how to apply, you can download this informational PDF which lists all the positions in detail and explains how you can apply.
We look forward to seeing you on October 29th!